"Why would anyone ever eat anything but breakfast foods? Because, Leslie, they're idiots." A conversation between Leslie Knope and the great Ron Swanson that sums up my feelings perfectly.
Very Berry Banana Oat Muffins 
These include healthy swaps like protein powder, applesauce and my personal favorite, Muscle Egg (you could use Egg Beaters or egg whites for the same effect). They're light and happy and with all the berries, oh so yummy!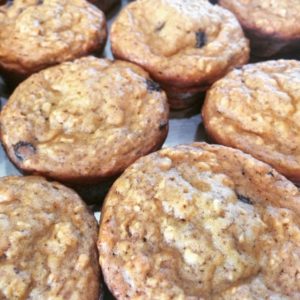 What You Need:
 (makes about 18 big or 24 small muffins)
Vanilla Protein Powder – 1 big scoop
All Purpose Flour – 1 cup
Quick Oats – 1 cup
Granulated Sugar – 1/2 cup
Baking Powder – 2 tsp
Baking Soda – 1 tsp
Salt – 1/2 tsp
Muscle Egg – 3/4 cup
Skim Milk – 3/4 cup
Unsweetened Applesauce – 1/3 cup
Vanilla Extract – 1/2 tsp
Ripe Banana – 2 medium
Blueberries – 1/2 cup or 1 small container if you really like berries
Raspberries – 1/4 cup, halved or quartered if they're really big
Preheat oven to 350 or 355
Spray muffin tins
Mash banana with a fork, set aside
In a large bowl, combine the dry ingredients
In a smaller bowl, combine the wet ingredients with the mashed banana
Gradually combine wet ingredients with the dry and mix well
Gently fold in berries
Fill muffin tins 2/3 full
Bake for 23ish minutes or until they pass the toothpick test
Very Good Muffin Variations
I've messed around with this recipe and found it's fairly easy to swap the fruit ingredients to create different variations. For example, scaling back to one banana, adding a can of pumpkin, sprinkling in some cinnamon and pumpkin pie spice, and omitting raspberries, you have Very Berry Pumpkin Oat Muffins. Or, try the same variation but swap the blueberries for chocolate chips – who doesn't love a chocolate chip muffin, especially if it's with chocolate chips?