What started as a simple effort to get in better shape has become a major part of my life.  Hi, I'm Lindsay. You may know me from my previous blog, Run Like A Girl 311, and you'll find a lot of what you know and expect from me on this site – only better.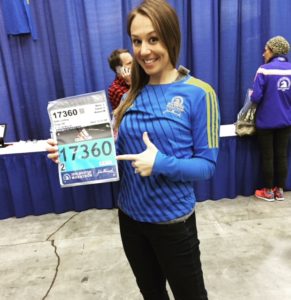 I began blogging because I love to write. I also love to run and wanted to share advice and tips with others looking to find their way to it. Combining the two, my blog has evolved into stories about running, eating, lifting, parenting, balance, and, overall, wellness.
What makes me different from other wellness bloggers is I keep it real – you won't find fitness rah-rah, 21-day-fix-type bullshit here. Just all things wellness and all in real life. My adventures in running often include my training partner, a Bug (Boston Terrier/Pug) named Burton. I'm also a new mom so I share a lot of perspectives on staying well even with the chaos of children.
Professionally, I have zero formal training in health, fitness, or wellness. Everything I share is self-taught and based on my real life experiences, just a girl who wanted to leave some bad choices and bad habits in the past and find a new lifestyle. If you're looking for info from a true professional – real, sensible advice, again no fads or nonsense – might I suggest following @JoeFitness on Twitter or Joe Fitness on Facebook. Otherwise, stay tuned and let's keep it real.