Meatless Monday, Lent Friday or any night of the week, below are some of my favorite dinner recipes. Bonus, some of these make multiple servings, ideal for families, those who like leftovers and those looking for meal prep ideas.
Bean and Quinoa Rice Veggie Burgers
Homemade veggie burgers are tough. They fall apart, they require too many ingredients, and I had yet to find a recipe that I thought tasted really good. This one kicks all those issue to the curb. I've found pinto beans work best but I've experimented with black beans, chickpeas, and combos of both – all taste great.
As for the quinoa and rice, you could cook each separately – but let's be real. Uncle Ben's prepackaged Quinoa Rice flavor is so much faster and it's oh-so tasty.
What You Need
(Makes four burgers)
Beans – 1 can (or mix of two varieties)
Uncle Ben's Quinoa Rice – 1 package
Tomato Paste – 2 large spoonfuls
Oregano, Garlic Powder, Salt, Pepper – Dashes of each
Breadcrumbs – a couple shakes
What To Do
Heat oven to 400 degrees
Cover a flat baking sheet with parchment paper
Sprinkle a thin layer of breadcrumbs onto a small plate, set aside
Heat Uncle Ben's rice in microwave according to package directions
In a large bowl mash beans – a potato masher is best but a large spoon works too
Add all but 1/2 cup of the Uncle Ben's quinoa rice, mix with mashed beans
Add spices
Add tomato paste, mix well
Roll mixture into large ball, roll in thin layer of breadcrumbs to reduce stickiness
Form into burger patty; repeat to create four patties
Cook about 14 minutes
Burgers can be frozen; reheat in the microwave and they're just as tasty
Veggie Street Tacos
You might be thinking to yourself, "Why would a vegetarian love tacos?" These are why. I've tinkered with this recipe and found a combo that I love – plus the real secret, the avocado and greek yogurt base.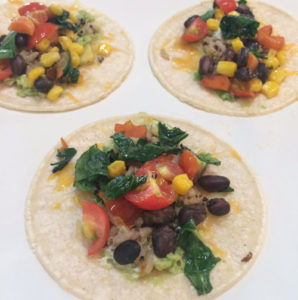 If you're looking for a different twist on Taco Tuesday (sans tacos), try this recipe as-is, only instead of adding the mix to tortillas, pour it over a sweet potato, cooked and cut in half, to create Veggie Taco Boats. This also works great as topping on tortilla chips with melted cheese.
What You Need
Small Corn Tortillas or Street Taco variety – 3-6, depending on size
Baby Carrots – 4-5
Zucchini – 4 slices
Corn – 1/4 cup
Black Beans – 1/4 cup
Cherry Tomatoes – 4-5
Spinach – 1/2 cup
Cilantro – Sprinkled to your liking
Avocado – 1/4 regular
Greek Yogurt – a couple tsps.
Taco Sauce – a couple tsps
Optional: Sprinkles Mexican cheese, any variety of rice
What To Do
Dice carrots, zucchini, tomatoes, and spinach
Rinse black beans, set aside
Mash avocado, set aside
In a large pan, heat olive oil over medium-high heat
When hot, add carrots and zucchini
Cook a few minutes until they begin to soften, stirring occasionally
Add black beans and corn
Cook another minute or two, stirring occasionally
Meanwhile, warm tortillas 20 seconds in the microwave (melt cheese if used)
Spread avocado on each
Add a layer of Greek yogurt, to your liking
Add tomatoes, spinach, and cilantro to veggie mix, cook about a minute
Fill tortillas with veggie mix
Top with a little taco sauce
Tofu Veggie Stir-Fry 
This is probably my all-time favorite meal I've ever learned to cook. It's crazy-healthy and delish, thanks to all the veggies and adding tofu gives it a solid dose of protein. I omit noodles and instal serve it on a bed of brown rice with quinoa.
What You Need
(Makes 3 servings)
Tofu – 1 block, extra-firm, drained and cubed
Frozen Stirfry Veggies – (I like Birdseye Asian medley in light sauce)
1 Package Uncle Ben's Microwavable Brown Rice & Quinoa
Stir-Fry Seasoning – 2 packets (I like Kikkoman)
Water – 1 1/2 cups (or to create desired sauce consistency)
What To Do
Prepare tofu by draining, blotting out excess water with a paper towel and slicing into small cubes.
Heat a large skillet on high until very warm, add the sauce mix until near boiling
Add tofu and lightly stir frequently until sauce starts to thicken (about 14 minutes)
While tofu is cooking, microwave the stir fry veggies according to package directions
Remove from microwave, pour over tofu and mix in pan
Microwave rice and quinoa according to package directions
Put 1 cup of rice on a plate, pour half of veggie/tofu mix on top
Save the other half for your next meal – it's just as delish reheated!
Mexican Pie-Zas 
Got a craving for Mexican and Italian? Gotcha covered. Mexican Pie-zas perfectly combine both the flavors of a quesadilla and a pizza. What I call a win-win..
What You Need
(Makes two)
Corn Tortillas – 4
Provolone Cheese – 2 slices
Roma Tomatoes – 1 large or 2 small
Olive Oil – 1 tsp
Oregano – 1 tsp
Salt and Pepper – Dashes of each
Salsa – 2 tbsp
Shredded Cheese – ¼ cup, Mexican-inspired to your liking (simple Colby-jack for me but you can do Jalapeno Jack or a spicy Mexican blend)
What To Do
Preheat oven to 400 degrees, spray a baking sheet with non-stick spray
Slice tomato, and mix in a bowl with oil, oregano, salt and pepper – set aside
Place two corn tortillas on baking pan
Place a slice of provolone on each, then top with the remaining tortillas
Spread 1 tbsp of salsa on each pie-za
Arrange seasoned tomato slices on each pie-za
Sprinkle shredded cheese on top of each
Bake about 8 minutes
Cool, then top with avocado or sour cream if you like – or just eat as-is!
Clean-Out-The-Fridge Lavosh 
Last winter, one of my BFFs, Jenny, invited me over for some Friday night wine and girl talk. She also introduced me to something that has become one of my favorite, easy meals: lavosh.
This light, crispy food resembles pizza, just without the marinara sauce and swapping pounds of mozzarella for Havarti cheese. It's super easy to make, fast and you can't do it wrong. You can put anything on it, whatever toppings you want. Bonus, it's a great way to use up meat and veggies in the fridge that are on the cusp of going bad. Don't throw em out, clean out the fridge and make lavosh (hence the name of this meal, coined by Jenny).
What You Need
(Makes two)
Lavosh cracker bread – 2 (You can also use one large and make a big lavosh)
Havarti Cheese – 2 slices
All the Veggies and/or Meats You Like – Pile em on
What To Do
Preheat oven to 350 degrees (for veggie lavosh – if you're using meat, you may need to pre-cook it or adjust the oven temparture/cooking time as needed)
Place a slice of Havarti on each lavosh piece
Slice, dice and fill it up with your meats and veggies of choice
Bake about 10 minutes
Cool a couple minutes then enjoy!
Cilantro Lime Rice Burritos 
There's a restaurant we all love that makes the yummiest of yummy burritos. Because the line is always out the door and one burrito there is filling enough for a family of four, I've created a copycat version that adds a protein punch without messing up the taste – thank you, Muscle Egg! But the real secret to these: the Cilantro Lime Rice.
What You Need
(Makes two burritos)
Whole Wheat Tortillas – 2, any variety (make sure they're not small)
Muscle Egg – 1/2 cup, flavorless
Black Beans – 1/4 cup drained and rinsed
Brown Rice – 1 cup
Cheese – 1/4 cup, white or mixed Mexican variety
Lime – 1/2 a small lime
Cilantro, salt and pepper – Dashes, to your liking
Avocado and Salas – To your liking
What To Do
Cook the brown rice according to package directions
When ready, squeeze in the lime juice and mix in cilantro; set aside
Cook the Muscle Egg – I've said it before; I have a supercool tupperwear/egg-cooker/microwavable thing that makes the lightest, fluffiest eggs in about a minute
When ready, chop up the muscle egg into bite-size pieces
Meanwhile:
Prep the beans and extras
Warm tortillas in microwave, about 10 seconds each
Smear each with avocado, sprinkle with cheese
Fill each with the Muscle egg, brown rice and beans
Top each with salsa
For a unique twist, I've subbed the beans for baby reds or sweet potato – both excellent and great for mixing it up!
Parmesan Zucchini Noodles 
A few years ago, after a particularly bountiful garden at my parent's farm, my mother gifted me with spaghetti squash. I instantly fell in love with this yummy pasta alternative and all the different ways one could cook it. Since, I've realized one can make zucchini into ribbons or noodles and enjoy the same way. The recipe below can be changed up to incorporate your favorite veggies, or if you prefer plain with marinara, pesto or Alfredo sauce.
*Note: I rarely eat zucchini noodles on their own. Most of the time, I'll make a plain serving then combine them with either tortellini, whole wheat spaghetti noodles or a carb like a sweet potato. Other times, I'll take a serving of leftover pasta, then add them in to spice it up and add a fresh twist.
What You Need:
(Makes 1 cup depending on zucchini size)
Zucchini – 1 whole, ends cut off
Olive Oil – 1 tablespoon or so
Butter – 1 tablespoon or so
Basil and Salt and Pepper – Dashes of each
Parmesan Cheese – To your liking
Veggies – What you like, as much as you'd like
*My favorite includes spinach, tomatoes, Kalamata olives, capers and artichokes
What To Do
Using a potato peeler, create ribbons (noodles) of zucchini, set aside
Heat a large skillet over medium heat
Add olive oil and butter, melt together
Add noodles, stir constantly (only takes about 2-3 minutes to cook)
Add basil, salt and pepper
If you're not using veggies, just heat up your favorite sauce and enjoy
If you're adding veggies, I'd recommend cooking those prior to the noodles because the noodles cook so fast
Then toss all together and top with some parmesan cheese